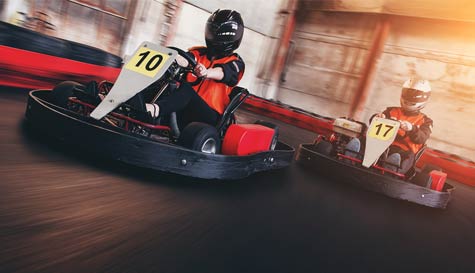 The daily commute and caravan Sunday drivers do sometimes make us all feel we're living life in the slow lane, so to get out on the track and really let rip at this superb circuit is fantastic.

You'll be racing up to six at a time as you go wheel to wheel to find out once and for all who among you is the stag Stig and which Captain Slow will be bringing up the rear (and subject to some serious stag banter at the end of the session).

The purpose-designed track gives you 800m of epic surface to test your racing skills to the limit in the 270cc karts. The course features some great tight corners and buzzing straights, it really isn't a matter of power but finding the best racing line and knowing when to sit back for the opening and when to attack your opponent and leave him eating your dust.

Each driver will be given the opportunity to test his skills in 3 separate 8-minute sessions with a prize for the party's fastest driver. After your activity, you can all enjoy a complimentary beer to toast the winner and heap scorn on the loser before heading back to your accommodation.