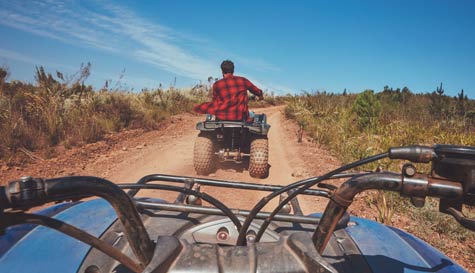 Our quad biking allows you to experience one of the most exhilarating tracks in Bratislava. Tear up an ever-changing track with the lads. Part obstacle course, part race track, quad biking really is the ultimate test of any lad's driving skill. You'll have plenty of time to take as many laps as you can fit in to perfect and hone your racing skills, meaning that even the Sunday drivers among you will soon be overtaking their mates, spraying mud in their face as they go.

After being shuttled to the track, you'll have a full safety briefing before being shown the bulldozing four-wheeler you'll be riding to victory. A professional instructor will be ever-present to put you right if your four-wheeler 'accidentally' becomes a two-wheeler at any point before you set off on this custom made track which you'll have all to yourselves. Meaning you can transform this quad bikes into your own personal Grand Prix.

After a few practice rounds, compete in time trials to determine which stag is the ultimate off-road champion. With all the bragging rights secured, you and the lads can head back to the Jeep Bar after your ride. Win or lose, share in the glory of your day as you're treated to two free beers before heading back to the city, on what is sure to be a banter-filled return for whichever stag decided that this occasion would be the best time to bust out his 'Captain Slow' impression...