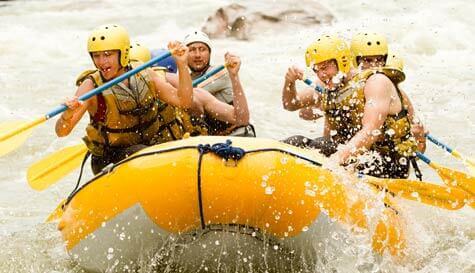 Don't believe the nonsense that hydrospeeding spouts... as far as Bratislava water sports go, white water rafting is the most extreme in the country. For fast, wet, and completely exhilarating action, you can't get any closer than the terrifying, adrenaline-fuelled experience that is white water rafting.

Not only is it hugely exhilarating, it's the perfect group activity for you and the lads. The rafts are controlled and manoeuvred as teams, so there's plenty of opportunity for bonding as you all race down the rapids and try and stay float (and in the craft) amongst all the crashing waves and the overpowering rush of water.

The Bratislava white water rafting site is the perfect place for trying the rapids. We offer an adrenaline-charged white water rafting adventure along a brutal 380m long run on the Cunovo lake. The centre is of the highest standard found in Bratislava, often used for training professionals and national and international competitions, with similarly high quality 6 man rafts for you and the lads to take the plunge in.