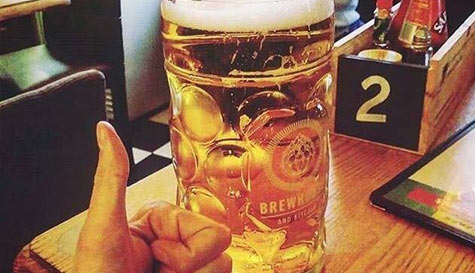 Why settle for mediocre beverages when you can brew your own beer? But we're not advocating you drink it all at once (please note, this isn't a heavy drinking activity, no man should ever suffer from premature intoxication), you and the guys can create class in a glass to present at the wedding or your next guys get together.
Let's face it, breweries are the equivalent of beer cathedrals. Just being inside a brewery is pretty darn awesome, but to have a stag party in one. THAT friends is the Holy Grail of stag weekends. A recurring daydream that's right up there with scoring the winning goal at Wembley and living next door to the Dallas Cowboys cheerleading squad. Get the guys together and announce "Guys, we're going to a brewery for the stag weekend and we're going to brew our own beer..." and see as the stag shaped holes appear in the door and walls as the guys literally throw themselves at the next passing cab in order to get to the brewery as quickly as possible.
But it gets even better, not only is this a great brewery and with a friendly team keen to share brewing knowledge, there's also some great beers to taste.
You'll also get a welcome breakfast of bacon rolls and a hot drink. Lunch is chosen from the brewery's pub menu. And a beer. You'll get to do plenty of sampling throughout the day with roughly five and a half pints of beer being consumed by each stag over the course of the event.
The final fermentation process takes around two weeks but your beer will be sent to you so the groom can have his very own beer to serve at the wedding. The guys will be sent a five-litre keg of beer each. Alternatively, you can take a pre-made keg away with you on the day.
This is a great day out for homebrewers, drink fans, foodie fellows and just anyone with a thirst. True stag perfection.