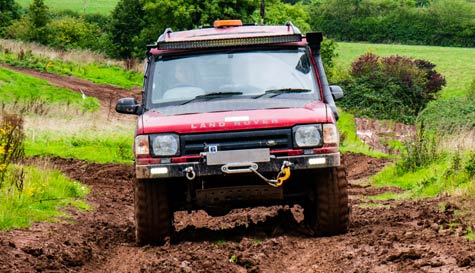 Push your driving to the limits and take on some of the most demanding terrains you'll ever come across with an intense 4x4 experience on a Brighton stag do you and the boys won't forget. Powering over the countryside in a big-wheeled, big engine monster is one of the most macho and manly stag activities there is, taking you and the boys back to nature... and then letting you blast over it in one of the most aggressive and impressive testaments to mankind's abilities.

Motorsports have always been amongst the most popular of stag activities, letting you press the pedal down and drive in some of the toughest, strongest vehicles around. It's easy to see exactly why they're so popular in our Brighton 4x4s, as you're able to rumble over specially designed tracks with man and machine working together to overcome the elements.

4x4 driving in Brighton lets you really test your nerve, negotiating thrilling hardcore courses designed to push your abilities behind the wheel to stretching point. You'll face a variety of obstacles and terrains, ripping over treks, trails and quarries in a powerful 4x4.