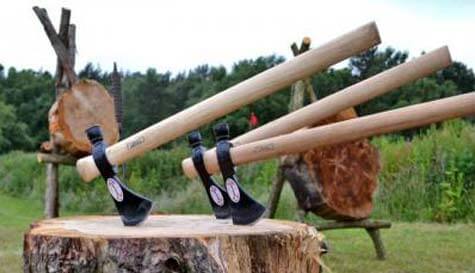 There was a time when us blokes were expected to be able to chuck an axe with deadly accuracy. We needed to be able to take out a rampaging bear or a marauding Viking invader with ease. It was second nature. These days, you start lobbing an axe around and everyone gets all: "You'll have someone's arm off!", "Put those down and get out of my shop!" or "Oi! You can't do that in the library!!!" It's health and safety gone mad.

Too many takeaways, box-sets and all-night Call of Duty sessions have made us modern chaps soft. Well, we're fighting back and inviting you to do the same on one of the few activities where the groom might genuinely stand a chance of chopping his own foot off. Game on!

You'll soon gain a Khal Drogo/Rambo/Gimli swagger once you've learnt how to hit the target a few times. We'll have an expert instructor on hand to try and keep the groom's toes safe and get you all hitting the target with deadly accuracy. Stag party axe throwing is exhilarating, competitive, dangerous and hardcore.

What's more, come the zombie apocalypse you'll have one more handy piece of weaponry at your disposal! Shaun of the Dead might have had his cricket bat but wouldn't you rather have a nice big chopper in your hand..? Er... actually... we think we'd better rephrase that.

Please note: Axe throwing is not available as a single activity but will help make-up and epic multi-activity day for your Brighton stag do. Please speak to our team for more details.