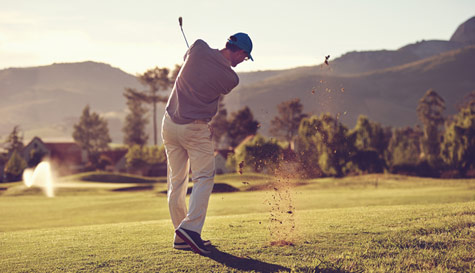 Golf is a classic sport for lads who've had just a little bit too much to drink the night before and don't fancy a full-on morning of stag action that'll damage their chances of repeating last night's epic alcoholic feats. It's chilled, fresh outdoors fun that is sure to clear off even the most horrific hangovers. In our golf stag party in Brighton, you'll set out on a huge 18 hole course in a spectacular location with sea views that will soon give you a helping hand back to your epic self.

However, it won't be as easy as simply hammering the ball down the fairway. You'll have to use a fair bit of golfing skill to negotiate your way around this course riddled with rough patches and sandbanks as well as a few other obstacles to show the boys your inner golfing maestro. But if you're a golfing novice, don't worry; you won't be completely left in the woods. There's plenty in this round of golf that'll challenge everyone to the max and keep pushing you to be the best at hitting a tiny white ball around a large area of land with a few holes in as you can be.

This golf stag party in Brighton is the real golfing deal for stags who don't want to lose a morning to the night before, or for lads who fancy winding down their day of total stag action before getting ready for that big night downtown. Few rounds of pub golf anyone?