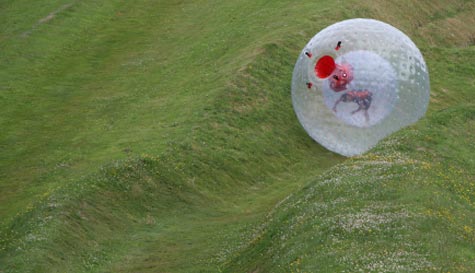 Our Brighton orbing centre is the ultimate destination for a thrill-seeking stag party. With the longest orbing run in the UK where you'll all be able to hit speeds of 30 miles per hour in your glorified hamster balls and half a mile to get everybody's heads spinning, the groom and the lads will have a total ball!

You'll arrive to a warm welcome and a quick briefing on safety before being taken in pairs and strapped into an orb. Facing your fellow terrified stag, you'll be let loose to roll at unbelievable speeds down a half-mile run before being slowed gently (yeah, right!) unbuckled and set free to stumble around, dazed and confused, the world sinning around you. Your stag brethren will, of course, be howling away atop the hill, totally oblivious to the adrenaline pumping, disorienting effect that these awesome inflatable balls will have on them.

The groom's mind won't be on wedding matters or the end of single life when he's hurtling down half a mile of head over heels stag carnage, the world blurred about him. The stags will test the laughing and screaming capacities of their lungs with this awesome activity.

Better still, as you'll all be letting gravity do the hard work, skills won't make a difference and the stags will get to experience the same adrenaline-pumping, heart-pounding thrills as each other without the need for expert driving credentials or athletic prowess. So board up, strap in and let the good times roll!