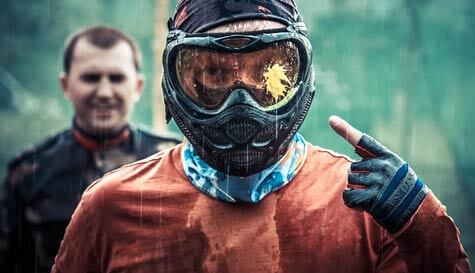 Paintballing is the tried and tested classic of stag do activities and our Brighton stag party paintballing centre will provide you with all the evidence you'll need to know why. It's a group activity like no other and it ticks all the right boxes: semi-automatic guns, pain, laughable bravado and enough stories to fuel the pub banter afterwards.

Put down the PlayStation controllers and experience simulated combat at its absolute finest by running around in 75 acres of thick woodlands, shouting and swearing at each other while firing blindly around trees in the hope that you'll hit something without compromising yourself. This is the only way to separate the men from the boys. It's competitive and demanding, but it's oh so satisfying when you manage to pelt your mates with high-velocity paint bullets.

There are 6 movie-style game zones to fight your way through, featuring massive, purpose-built structures that provide cowards with cover and snipers with vantage points. You can lone-wolf it or launch a group assault, darting between trees and ducking under paintball fire in order to emerge victoriously and claim the champion's pint ... paid for by the losers.

Whether you start taking things a little too seriously and start reeling off code words and special forcers mottos, or you're more inclined to watch everyone else charge headfirst into the fray while you snicker at them from behind cover, this paintballing is a guaranteed success on your Brighton stag do. You'll be bold, courageous, willing to wander into chaos and get covered in paint.
WHY NOT ADD...
Double your fun, get a great deal by adding a second activity at this site.