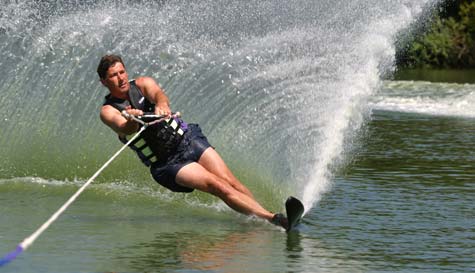 Fast, athletic and a lot of fun, Brighton waterskiing is the perfect addition to any big weekend on the south coast. If your stags are a group of adventure-hungry lads who don't mind getting wet in the pursuit of adrenaline-pumping thrills, then this is for you. This is great for boys who fancy trying something new and don't mind looking really silly; let's face it, there's a good chance you'll be taking a dunking at some point in the session.

Water sports are always popular with stag groups heading to coastal destinations, and it's not hard to see why. Activities like waterskiing are just better by the seaside; they're as cool as they are fun and they give the lads the chance a fresh opportunity to show off in front of their best mates.

Throw a V8 speedboat into the mix and you're onto a real stag weekend winner, you'll be pulled along at high speeds across the waves for an exhilarating, white knuckle ride that you won't forget any time soon. It won't be as easy as just holding on for dear life and letting the driver do all the hard work though. You'll need to bring some serious balance to this activity, or you could find yourself enjoying an impromptu swim or two.

But with expert tuition, even stags who've never even surfed before will soon be upon their feet, skiing with the best of them. After a few initial wobbles, you'll be flying along the coast, crossing the wake and if you're really confident, popping your first jumps!

Waterskiing on your Brighton stag do is a white-knuckle experience that provides big laughs and even bigger thrills; it's a great way to get out of the city before heading back to your accommodation to get ready for the big night ahead.