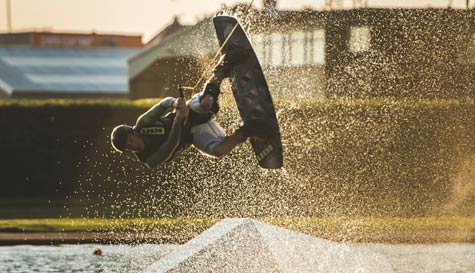 Brighton, often known as 'London by the Sea', is most definitely one of the UK's coolest destinations with its great bars, epic nightlife, fantastic music scene, trendy boho-summer vibe and, of course, the stunning seafront and beach. So if you're heading to be beside the seaside and want a day of suitable full-on stag action, then the Brighton stag party watersports challenge ticks all the boxes.

You can opt for either 2-hour or 3-hour options with 6 challenges to choose from:
Windsurfing - Requires balance, poise, good upper body strength and the ability to laugh at your fellow stags every time they face-plant the water.
Dinghy Sailing - A classic watersport activity and something us Brits happen to be pretty darn good at having won a raft-full of medals at recent Olympic Games.
Wakeboarding - A mixture of snowboarding and waterskiing this is a sure-fire hit with any group of adrenaline hungry guys.
Kayaking - For this ancient and time-honoured mode of transport, you'll be kitted out with the very latest gear. Easy for all the guys to pick up with plenty of opportunity for setting up races between the lads.
Stand Up Paddleboarding - The latest craze in UK watersports and epic fun. Essentially involves standing up and paddling long surfboards (the clue was in the name).
Raft Building - You'll need teamwork and the willingness to put your fate in the hands of your fellow stags as you not only build but race your own rafts.
2 hours = 1 or 2 activities
3 hours = 3 activities
All the events take place in a lagoon, where the water is calmer allowing watersports newbies a greater chance of success with any new activity. And the fact that you'll be enjoying the stunning seafront just makes the Brighton stag do even better. It's the perfect way to build up a thirst for the night ahead.