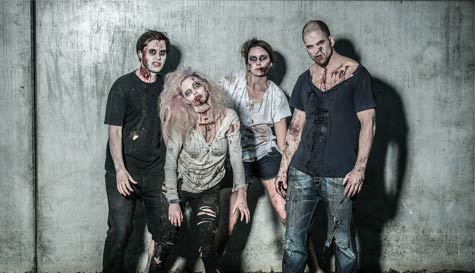 Ok, so this is the heart of the rolling South Downs, it's a cool and tranquil place to relax after an evening of apocalyptic stag behaviour, the last thing you'd probably be thinking here is what to do if zombies suddenly come shuffling through the woods. And that is exactly why you'd be the first to get eaten.
Yeah, we hate to be the ones to break it to you but it's just a matter of time before the undead hit the fan and if you're not ready to wade in Rick Grimes style then you'll be shuffling, groaning and dining on roadkill in no time.
Forget Shaun of the Dead, yeah it was funny, yes we would probably all want to hide out down the local boozer but when the time comes (and according to Hollywood it's coming) a cricket bat and some Status Quo records really aren't going to keep the horde from the door.
This amazing session will allow you and the boys to get your sweaty palms on all kinds of weaponry with an added competitive element as you pick up each new piece of kit and aim to see who can score points as well as kill zombies. "Let's kick some undead ass!"