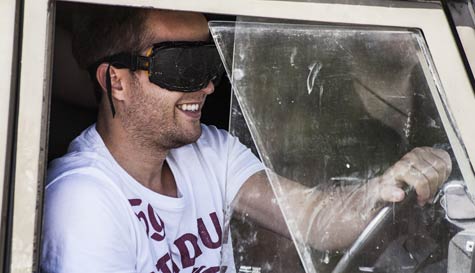 Set up your own Top Gear challenge (preferably without offending Mexico, Argentina or punching a producer) and give the guys a great competitive stag challenge on your Bristol stag do.

The aim...
You'll be split into teams, each team member will take in turns to get behind the wheel of a 4x4 off-roader and navigate around a tricky course in the shortest time possible without picking up any penalty seconds. Your team's scores will be combined to find the overall winners and Stag Stigs.

The Catch...
This is our Bristol blindfold driving event and the clue is in the title. You will be driving completely blindfolded and having to rely purely on the instructions/directions given to you by your fellow stags.

The Banter...
Of course, while each team is in the car, the opposing teams will get to watch, shout their own advice/abuse and basically take the Clarkson out of their hapless attempts to not park it in a tree halfway round the course.

This is a great team challenge, not only will it require some deft skills behind the wheel, but quick thinking and really good clear instruction from the rest of the team. This isn't about fast driving but teamwork and delivering the best instructions.

Forget "Mirror, signal manoeuvre..." This is more a case of "Mirror, signal, ah b******s, we're in a ditch aren't we?"
Bristol blindfold driving works best as part of a multi-activity day of full-on stag competition. Choose from a range of action-packed events including: