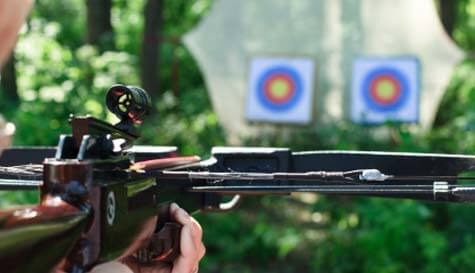 Crossbows are awesome. There's no doubt about it. The thrill of firing these high-velocity weapons is second to none for any lad who fancies himself as a pro archer. Their blend of raw power as well as accurate firing makes them easy to shoot, so even stags that are inexperienced in a firing range can soon go from a complete novice to a bolting badass in virtually no time at all. If you fancy shooting something on your big weekend, but you don't fancy getting shot at in activities like paintball, our Bristol stag party crossbows are a lethal sporting competition that is sure to be a hit.

After a safety briefing and an introduction to your personal target demolition machine (or 'crossbow' for short), you'll head down to the target range to get shooting. Keep track of the score to decide just who amongst you can best channel their sharp-shooting medieval ancestor and who's really as bad at shooting a high-powered weapon at a target as they are at taking penalties. Although to be honest, these bad boys have nothing to do with their medieval relatives. The crossbows you'll be firing are modern, automatic destroyers that will literally punch a hole in and if you're really good straight through a target.

Big laughs, bigger thrills and great sporting competition, our crossbows is a must for stags who want to get stuck into some exciting action on a Bristol stag do without the risk of getting battered and bruised for that big night ahead.
Double bubble...
Why not add even more laughs to your day with a second activity? Ask our team for more details.