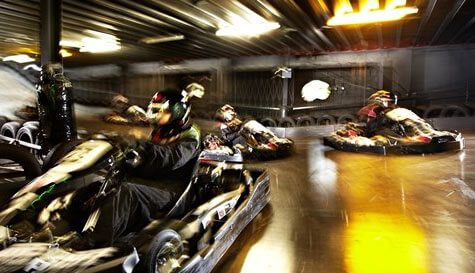 Sort the PlayStation and Xbox champions from the racing pros in high speed stag competition that promises to test the Forza and Need for Speed experts from the real driving elite of your group. Our Bristol indoor go karting facility will allow you to settle that dispute once and for all without the risk of adding any points to your license or breaking any laws. There's a reason why indoor go karting is so popular: it's epic!

You'll get a full guide to handling these monstrous vehicles from our facility's professional instructors as well as an outline of track safety to make sure the groom makes it to his special day in one piece. Once you've got a handle of the karts over the course of a couple of practice laps, it'll be time to hit the track for real and see if any of that professional advice stuck.

The Bristol track is among the best in the country and will please seasoned go karting champs and driving novices alike. With 500 metres to master over the duration of your session, it'll be well worth paying attention to every corner if you want to emerge victorious at the end of your day. The split level design of the Bristol circuit also means you'll be handling inclines and declines on the day; there's a flyover section too, which will give you a chance to laugh at anyone still struggling down below.