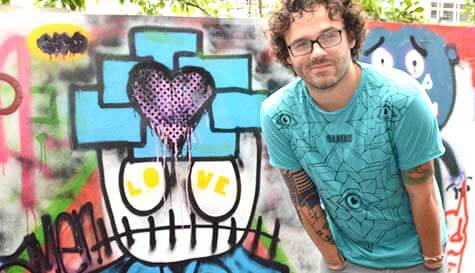 Art is boring, right? Eh-uuuuuh, wrong. Art is cool, and our Bristol graffiti tour will show your stag party exactly why. It's awesome, stick-it-to-the-man stuff that showcases some of the most amazing and world celebrated artistic talent that Britain has to offer. We've all heard of Banksy, and now you can see a fair few of his best pieces of work in Bristol, the street art capital of the UK.

Home to many great street artists like Banksy and the less-well-known, but equally striking and enigmatic Inkie, Bristol is the heart of up and coming street artistry. Now is your chance to learn more about this elusive movement and who the up and comers on the scene are.

You'll be touring round the independent creative-quarter, an area of Bristol where artists are actually allowed to paint. These aren't just scribbles on the wall; they're epic works of art that really speak to what's going on in the world right now.

After your tour, you'll get the chance to spray your own cutting edge bit of street art using a stencil and canvas that you'll be able to take home with you, and if you're really keen you can even upgrade your tour to a full-on workshop that'll teach you all the skills you'd need to become a wannabe Banksy yourselves!

Our graffiti tour in Bristol will get your stag party in a chilled out, creative mood that's sure to keep them entertained before you hit the town for that big night out later on.