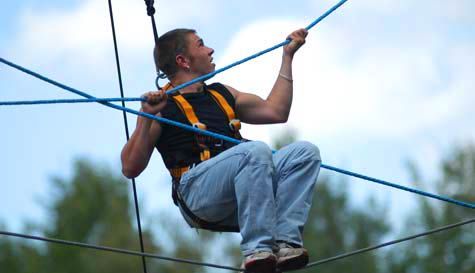 Boys will be boys. This High Ropes Combo day covers all the necessary ground to ensure an unforgettable weekend - epic adventures, enthralling challenges and the most fun you can have with a load of ropes (!?!).

With a range of awesome activities to keep you enthralled, and a delicious lunch to refuel you, this really is the creme de la creme of Bristol stag dos. There's also a competitive element as each stag will carry their own score sheet so an overall winner can be declared at the end of the event.

The High Ropes element to the day is totally bad-ass, and takes in the following elements:


Jacobs Ladder - working as a team, you will climb up a huge ladder high into the trees!
Triple Balance Beam & High Incline Beam and Multi Vine - Two intense challenges that demand concentration and balance!
High All Aboard and Leap of Faith - From 14 metres up on top of a pole, there is only one way down from these two fear-inducing challenges...
Crate Stack - Build a tower made from giant crates: how high can you go?
Quad Biking - an absolutely fantastic activity using 125cc breezes that are simple to drive and offer an enthralling ride!
Archery - a stag classic and it is easy to see why - it is addictive fun and a great way to add a bit of competition between the boys.

Not only do you have these amazing activities to guide you through a memorable day... but a delicious hearty lunch is included - burger and chips will go down a treat during a day of action!