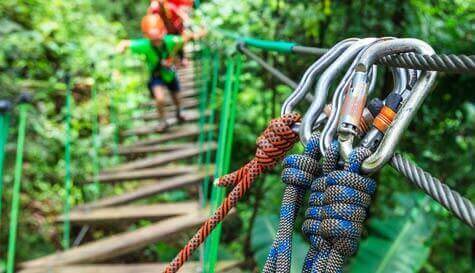 All good stag parties need a few key basics, big challenges, big adventures and shed loads of banter. Our exhilarating high ropes challenge is the ultimate in extreme high thrills and will supply all the banter and adventure to keep you talking (and laughing at each other) until the pints are poured later in the evening.

High ropes Bristol is an epic day out perfect for adrenalin loving stags. If the groom and his mates love a challenge then you'll find plenty to get stuck into here, with a wide variety of climbing challenges and tests of high wired bottle. You can pick your challenges and also the level of each challenge to suit your group, ranging from "baby sister" safety level to "brown trouser", heart-stopping, adrenalin junkie, extreme heights.

Fully qualified instructors will literally show you the ropes before letting you loose on them. Working as a unit you'll get to stand and urge each other on or alternatively put each other off with suitable stag insults and threats of beer penalties for any man who doesn't quite hit the high spots.

Team Play...

For a little added competition the instructors can split you into 2 teams to go head to head. Add a friendly wager between the teams and you're in for a top day out.

Be more, get more...

You can opt for full or half-day sessions. Once you have completely taken on every challenge and laughed at gravity's sad attempts to pull you back down to earth, you can mix things up a little by adding a BBQ lunch and then going on to an afternoon of driving and/or shooting events.