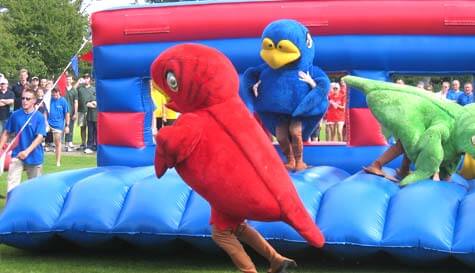 Stag do's are all about having laughs and giving the groom a brilliant weekend/send off that you'll all remember for years to come, and if you want something truly memorable, utterly hilarious, fiercely competitive and more than a little bit mad then this is perfect for your Bristol stag do.
Based on and using many props, games and costumes from the massive smash hit TV show from the 70s and 80s It's a Knockout, this is just about the most fun you can have while dressed as a giant penguin (although you can make sure it's the groom who faces that particular challenge). The action is massive and messy.
You'll be facing a series of giant inflatable obstacles and games. Each one will have its own nasty tricks waiting to catch you all out whether its foam, water, huge costumes or just mad rules. But you won't be alone, this is an open activity which means you'll be going head to head with other teams of stags and hens. If you have a large group you could find yourselves split into 2, 3 or more teams, giving someone in your party the chance to go up against the groom and best man in your own personal battles.
We'd advise keeping your cameras close but well protected from any water as there are some brilliant photo opportunities and chances to film the guys going a little bit crazy, but don't get lost behind the lens, the action is fast and furious with every member of the team needing to play their part to secure maximum points on every round and guarantee victory.