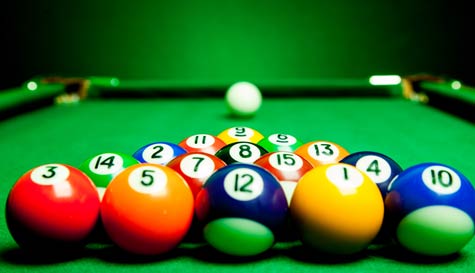 Any good stag do needs some sound basics;
Sporting competition
Access to plenty of beer
Food (to balance out the beer)
A groom to pick on
You bring the groom, we'll take care of the rest. This fantastic pool hall doesn't just give you guys a place to rip into some friendly sporting rivalry but it's a celebrity in its own right. You remember that epic trick shot? You know the one, the guy hits a ball down the stairs with a golf club and the shot then goes on an endless run down flights of stairs and over several pool tables, down the length of an entire pool club. Twice! That was shot in this very club. Now it's just a question of whether you can bring the same amount of game.
And there's plenty of games to choose from;
12 English pool tables
3 American pool tables
3 x snooker tables
Dart boards
Pinball
Table football
Boxing machine
Plus big screen sports
You'll kick off with a free round of beers to make sure you're properly hydrated like true sportsmen. Then it's down to business, you can bring as many stags as you like (please let us know in advance) and we'll make sure you have enough tables to run your own tournament. As well as this you'll have platters of stag snacks to keep you going.
If you're still feeling hungry there's a full menu;
Pizzas
Buckets (chicken wings/strips, fires, scampi, cheesy chips, onion rings, wedges, etc)
Burgers
All day breakfast
Baguettes
Nachos