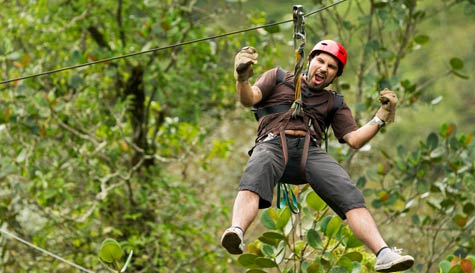 Zip wires (aka "death slides") really do sort the men from the boys. When you were kids you might have tried the 10-metre safety first options when you were cradled calmly in an old rubber tire but for serious stags we have one of the UK's longest, tallest and fastest zip slides, running the 700-metre length of a beautiful quarry in the South West of England.

To really hammer home how long this is, it is the length of around SEVENTY double-decker buses! You will be launched from the 70-metre high cliff edge, reaching speeds of up to 40 miles per hour in this truly exhilarating ride and favourite of YouTube fails the world over. For those men brave enough to open their eyes there is a magnificent 80-metre drop flashing by beneath you.

Of course, you can capture the action on your phones or cameras because what happens on tour stays on tour, unless it's one of your mates screaming like an 11-year-old girl while hurtling backwards at 40 mph, 80 metres above the ground and about to lose his lunch!

Zip wire is also suitable for any group because there is no running around required the bride's dad and groom's grandfather can get as much out of this as any of the younger stags.