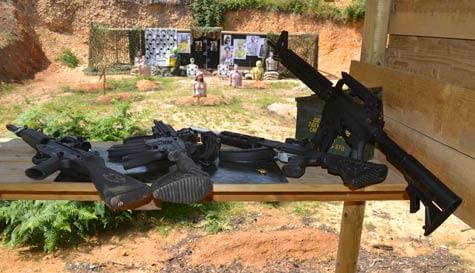 In the event of a zombie apocalypse, you will be mightily relieved that you had some ruddy good training in beating off zombies (stop giggling at the back and pay attention). Granted, on one level it is an epic stag activity where you'll get to do serious damage with big weapons (I won't tell you again!)... but it's also great training for doomsday. Win-win!

You will be exposed to the following tests, designed to prove your stag abilities to cope with a zombie apocalypse:

Assault Rifles (30 shots) - This is the real deal; you will be using awesome .22 assault rifles such as the MP5, UZI and H&K 416 while taking aim at exploding targets and bleeding zombie torsos.

Axe Throwing - Superbly competitive, difficult to master and just ever so slightly deadly, you'll be using American style tomahawks to score points.

Crossbow - With a draw weight of 80lbs, these bows are absolutely lethal and certainly more likely to take out the undead than a Showaddywaddy album (take that Shaun!).

Archery - This ancient and noble sport is a stag classic, the fact that you'll be firing at exploding targets makes for a game of darts with a difference.

PLEASE NOTE: Lunch is also available on-site at an extra cost. Please speak to your account manager for further details.