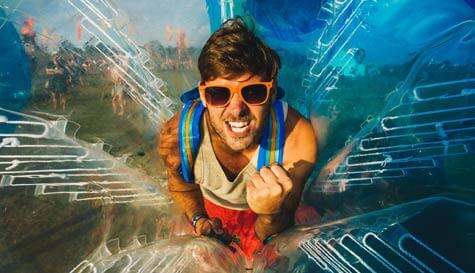 You might have heard of 'Bubble Football', well we've found not all stags like football. But all blokes do like the idea of giving the groom a severe beating, and the joy of Bubble Carnage is you can give him (and each other) a complete battery without the risk of bruising his pretty face.
Remember back in the day when sports were for real men? There was no sign of the men in hi-viz jackets to put a dampener on anything? Carefree days when kids were actively encouraged to run with scissors, cycle over broken glass without a helmet and we were all sent out to do games in just a vest no matter how deep the snow was? Well, this modern, hardcore games have a happy retro "What-doesn't-kill-you..." twist.
Stag Relay Race
Bulldog
King of the Ring
Capture the Flag
And finally...
Torture the groom with our Mr & Mrs Quiz
Ok, so we jest, there is an instructor on hand to keep things in check, all the guys are wrapped in huge bubbles so it's very difficult to actually hurt yourselves and all the games do have rules to keep things friendly. Listen to the instructor/ref, stick to the rules and you'll emerge from the games completely unscathed while at the same time getting to really let rip at the groom for having bagged himself such a stunning bride, being so annoyingly happy and committing the ultimate sin of leaving his carefree, football watching, pint spilling days behind him just so he can shack up with a girl. What is he thinking?!?
The games are varied but all involve barging and bumping your way to victory and all completely hilarious. Ok, so it's unlikely that this sport will ever get international recognition or feature in the Olympics but it is just about the most fun you'll ever have with a bubble on your head.