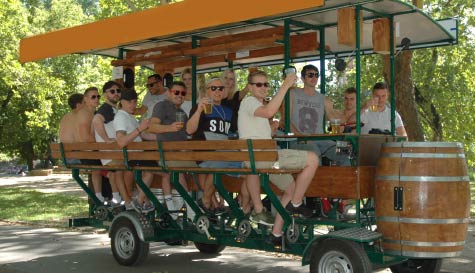 If you're going on a Budapest stag do there is only one way to travel and this is it! While Budapest's commuters and lesser stag parties might stick to duller forms of travel (buses, taxis, trains, yawn!) those in the know will be taking to the streets on a superb beer bike.
It's always a tough call when on a stag do somewhere you haven't visited before, you want to get out and about, but being a stag do you don't really want to stray too far away from the bar. Well, now that problem has been solved with the ultimate in stag transport.
Each bike holds a maximum of 14 stags who will mount up and help propel your party through the streets. If you start to feel thirsty you won't need to find a pub as each bike has its own bar complete with 20 litres of golden, thirst-quenching beer. Thankfully to help keep you pointing in the right direction the Budapest beer bike also comes complete with an English speaking driver/guide so you can focus on pedalling and pouring while he takes care of the lesser details, like not driving into lampposts.
Rather than just sitting in a pub-like lesser stags you'll be getting some "cultural exercise". It just so 'happens' to involve liquid refreshment of an alcoholic nature onboard. It's essentially a mobile pub with added health benefits. You're welcome!
Pedal, pour and take the pilsner out of the groom, it's pure stag genius!