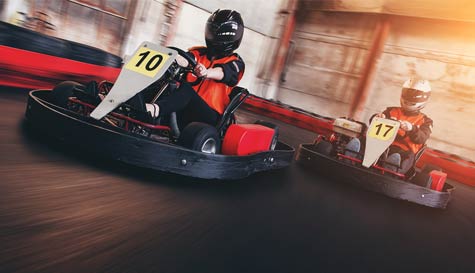 With up to twelve karts on this monster 820m outdoor circuit, you just know this karting event is going to be a winner on a Budapest stag do. The 200cc Rimo karts you'll be flying around the track in are capable of reaching speeds of 40 mph, which is butt-clenchingly fast when your butt is just inches off the tarmac.

Our go-karting in Budapest is the perfect opportunity to finally settle that old argument of who is the best driver once and for all. Kitted up in full helmets, gloves and racing suits you'll have a few practice laps to learn the track and get used to the formidable 200cc karts. These bad boys are lightweight and move faster than stags at an all you can eat buffet.

Once you're all up to speed on how to keep the karts on the track its time to get your game faces on for the qualifying heats. Inevitably some of you won't make it through to the final, there is a word for those stags, it's "losers". However, the rest of you will line up for the final race which will decide exactly who is your stag party Stig. He can then proudly show off his winning bottle of champagne to the assembled Captain Slows.

This is 820m of fast straights, testing chicanes and hair-raising hairpins make for an adrenalin-fuelled, heart-pumping event that you and the boys will still be talking/discussing/arguing about for years to come.