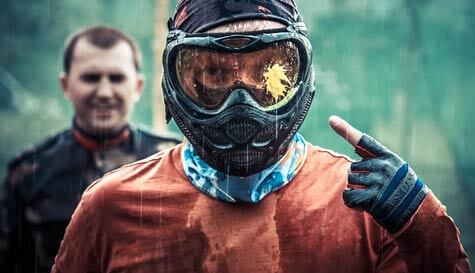 Paintballing remains an essential staple of the stag party. Budapest offers one of the best venues and experiences in Europe. You'll have everyone's hearts pumping with great competition between all the stags and the constant threat of someone being shot in the gentleman's vegetables.

Even if you've already played paintball before, you've probably never played it in the remains of an ex-Russian military base, with game zones situated in dense woodlands and derelict buildings, rusted cars and destroyed walls for cover as you scramble towards your mission objective.

To get everyone straight into the warrior spirit you'll all be given 200 free paintballs to get things off to a ferocious start, so the lads will be vaulting over walls, rolling into cover and stitching each other up from the very start of the day. Don't forget to make the groom constantly visible (say it's for his safety, honestly) in a specially selected costume such as a hi-viz jacket, a neon tutu or perhaps a pink onesie. We wouldn't want the groom to miss out on any of the action now, would we?

Once things have calmed down again at the end of the session it'll be time to boast and tell stories over victory pints ... paid for by the losers, naturally. This is one of the most unique combat arenas in Europe and would make an outstanding addition to any adventurous Budapest stag do.