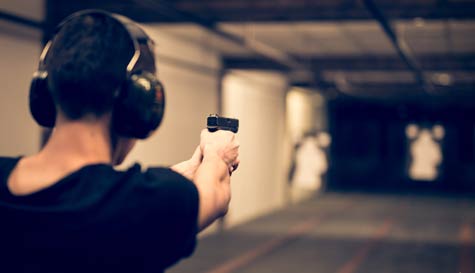 For lads that want their Budapest stag do to go out with a bang you simply can't get better than target shooting in Budapest.

Our comrades in arms over in the Hungarian capital have a "slightly more relaxed" view on the kind of firepower that can be put in the hands of strangers. While here in the UK you are often required to fill in forms, wear hi-viz and contact the coastguard before you're allowed to pick up anything more powerful than a peashooter, over in Budapest they will happily hand over the kind of firepower that will bring down entire buildings!

There isn't just one piece of incredible firepower. You'll get your trigger fingers on various kinds of weaponry. You'll receive full instruction from the qualified team, who will get you pointing in the right direction before spraying lead.
Ruger Mark IV
Glock 17, 9mm
357 Magnum
Remington 870 Tactical shotgun
AK47 Assault Rifle
Upgraded packages also include;
SKS
FN Fall Sniper Rifle
PPSH41
This is a competitive activity and all the lads will be shooting against (NOT at) each other. The paper targets will record your scores and are yours to take home as souvenirs.

There are four packages to choose from;
| | | | |
| --- | --- | --- | --- |
| | Bronze | Silver | Gold |
| Ruger Mark IV | 10 shots | 10 shots | 10 shots |
| Glock 17 | 10 shots | 15 shots | 20 shots |
| 357 Magnum | 6 shots | 6 shots | 6 shots |
| Remington 870 | 5 shots | 5 shots | 5 shots |
| AK47 | 6 shots | 10 shots | 12 shots |
| SKS | x | 5 shots | 10 shots |
| PPSH41 | x | x | 10 shots |
| FN FALL | x | x | x |
| Total Shots | 37 | 51 | 73 |
Please note; This is a serious activity and while we want you to make the most of your weekend we have to point out that safety is paramount. You will not be allowed to shoot if you have been drinking or are clearly still suffering any effects from the previous night out.

Exact guns may vary for weapons of the same calibre, for example, the AK47 maybe replaced by Czech SA58 or Hungarian AMD65