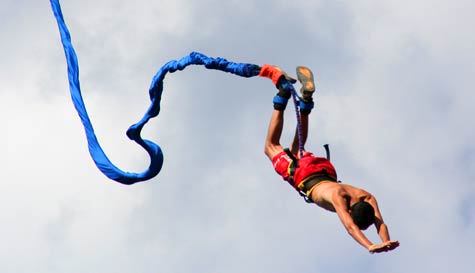 This is the ultimate in adrenalin sports and the greatest test of stag do courage (and the best man's underwear) ever. If the blushing bridegroom has always wanted to tick bungee jumping off his bucket list then this is the perfect opportunity for you to make those dreams come true.
We have stag jumps in all kinds of weird, wonderful and terrifying locations across the UK and Europe. Over rivers, off bridges, cable car platforms, cranes, even indoor bungee jumps complete with a rock and roll soundtrack, huge sound system, giant screens and club lighting.

Bungee jumping isn't merely an epic activity, it's a silent badge of honour shared between like minded adrenalin junkies/complete nutters ("You don't know man 'cos you weren't there!"). It's also an unbelievable rush that you'll be thinking about for weeks. Even stags with a previous fear of heights might decide to step up to the plate and take on the biggest mental challenge of their lives, with fantastic results. For those that don't, well they can always just hold the real men's coats. It might be an idea to warn the guys in advance not to go overboard at the all you can eat breakfast buffet prior to bungee jumping.

Bungee jumping could also be one of the harshest hangover cures of all time. So come and have a go if you think you're hard enough.

It really is a life affirming experience that will make that next pint taste even sweeter. Simply put, a bungee jumping stag party is the kind of lads' weekend memory you'll never forget.