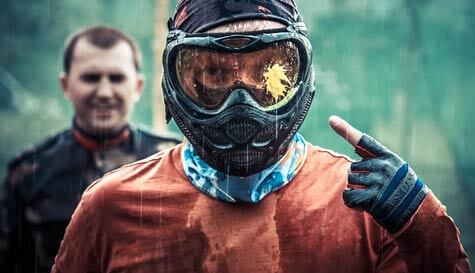 Our Cambridge stag party paintball is popular among stag-kind for a good reason: It's awesome! From the military boffins to the Xbox heroes used to winning at Call of Duty and Halo, every bloke has a soldierly side that needs indulging, and what better way to do so than by running around dense woodlands, pointing guns at each other and shouting code words as if you know what they actually mean.

Our Cambridge stag party paintball site is completely military-themed with a number of epic game scenarios to fight through in battle zones riddled with purpose-built structures and authentic props:
Game scenarios like 'operation overload', 'fox holes', 'a bridge too far', 'American-German' and the epic 'attacking the tank', which features a real Chieftain main battle tank.
Original props including an FV432 armoured personnel carrier, military-spec Land Rovers and the Chieftain main battle tank.
Purpose-built structures for you to capture, defend or just hide in such as bridges and forts.
You'll have no problem separating the men from the boys after a full or half-day of sprinting around thick woodlands, under fire from opposition stags and earning fame and glory for your heroic deeds.
Think the groom's in for an easy time with so many targets to choose from? Hand him a hi-viz or some bright Y-fronts to put on over his overalls so everybody knows who to aim at.