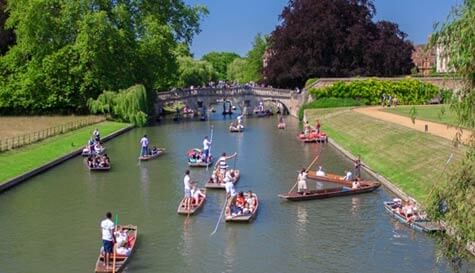 For those looking for exploring the sights of Cambridge in a fairly gentle manner (the weekend can't sustain its chaos throughout - trust us, you'll be glad for a little breather between the pubs!) then taking to a punt boat is a great addition to your weekend. Simply put, it is the best way to see the city from the unrivalled viewpoint along the River Cam whilst sitting back, relaxing and enjoying the sunshine.

This 60-minute session is a cracking way to kick back and spend some quality time with the boys as you explore the sights of Cambridge. It's also a pretty decent spot to get over those hangovers. With your own designated chauffeur and punt guide, your guided tour will not only be a much-needed recharge of your batteries, but it also acts as an education of the history of the city (which in turn can double up as impressive chat up lines).

For the more energetic stag lads you can have a go at punting yourselves - just try and stay in the boat, please. It could be a long walk home if you're wet.

There is an option of two different routes - either the sightseeing Backs route (which takes such landmarks as King's College Chapel, the Wren Library and the Bridge of Sighs) or a more tranquil route through Grantchester.

Don't panic if it gets a little chilly - the 12-seater punts come with blankets, as well as umbrellas should the Wimbledon weather arrive.