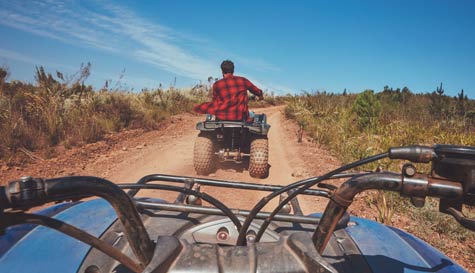 Evert stag should, one day, ride a monstrous, growling beast of a four-wheeled driving machine off-road. Our quad bikes stag party in Cambridge is perfect for those looking to do just that and have the ultimate off-road experience. Anybody can drive around a track, but this is no mere circuit race. This gigantic course offers you an entire 60 acres of sandhills, water hazards, mud-holes and various other types of terrain that even Bear Grylls would think seriously about before embarking on the task of navigating it. Luckily for you, a professional instructor there with you the entire time to show you the ropes so you can really demolish this off-road course.

This track really is the ultimate quad-biking experience, with an ever-changing terrain you'll be able to show the lads once and for all who the best driver really is whilst trying to get as much wheel spin as you can to totally drench your mates with mud. Also, this activity is available all year round, so your average wet English summer isn't going to get in the way of this quad biking activity for stags. True off-roaders might even find themselves wishing for rain on their afternoon out to create the trickiest driving conditions possible, which will obviously result in absolute hilarity as you slip and slide your way around an increasingly unstable and adrenaline pumping track.

A must for every stag weekend, this quad bikes stag party in Cambridge really is the perfect inclusion for any stag party. A group of fine stags should always have time for the sacred bond between man and monstrous four-wheel vehicles.