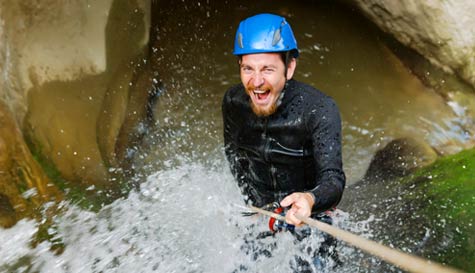 If you're the type of stags who consider paintball too clean, think mountain bikes have far too many breaks and reckon health and safety officials should be forced to wear hi-viz jackets for all eternity (ie, you crave REAL adventure) then canyoning is definitely for you.

While you will be given the correct training and safety equipment (purely in the interests of getting you home in one piece) this is real stag adventure which will most definitely sort the stags from the boys. Canyoning or 'gorge walking' involves setting out on a prepared route, your challenge is to get from A to Z using a combination of swimming, rock scrambling, climbing, and pool jumping (sometimes known as "tombstoning", which is basically throwing yourself from a height into the foaming water below and hoping for the best and should only be done with an experienced guide).

You can't fully appreciate the joys of canyoning until you're taking that first great leap of faith with your mates. It's a great adrenalin-fuelled action that you and the boys will love. Canyoning not only takes you to some stunning locations but also gives you plenty of opportunity for banter and taking the "plunge" out of each other.

Expert guides and instructors will be with you the whole way to give you a few pointers and make sure the groom doesn't come to any serious harm ahead of his big day which avoids awkward conversations with the bride-to-be; "Well he got stuck in the cave, we were going to wait from him but we didn't want to miss last orders."

* Transfers are not included but can be arranged as an optional extra. Please ask our team for more details.

Please note: Non-swimmers must advise your instructor on arrival.