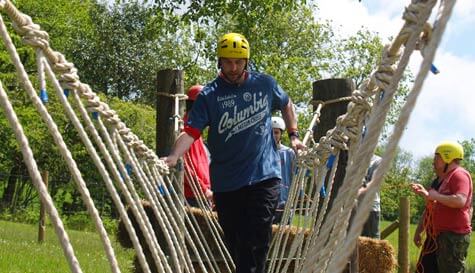 If you're looking for something a bit different from the norm that will put the lads well and truly out of their comfort zones, our Cardiff stag party assault course is the ultimate test of physical ability, endurance, speed and strength as you traverse rope bridges, head through mud tunnels and climb 50ft scramble nets.

This epic course stretches over one and a half miles with some huge obstacles for the lads to overcome. You'll need some colossal 'mind over matter' style thinking. You might also need some "fat lad over obstacle" style heavy lifting.

But it's not just a flat out race, we'll be testing mind, body and spirit and also a little bit of teamwork thrown in. Because at StagWeb HQ (where admittedly we're nice and dry and warm) we didn't think just a straight obstacle course was enough for our stags, so we've added a few vital supplies into the mix that you and the guys will have to get over the course. That will require you working as a tight unit. Or alternatively just grabbing a box and leaving the rest of "those wimps" trailing in your victory bound wake.

Obstacles:
Stepping stones
Bridges over streams
Under & over logs
Balance poles & beams
Spiders web
Cargo net crawls
Vertical wall
Burma rope bridge
Tyre run
Tunnel crawl
Mud pit swing
50ft cargo net ascent
Pipe crawls
Monkey bars (over a pond!)
So it's time to get those pristine and beautifully pampered stags out into the wild, and who knows, maybe a few of them will even make it back in one piece? But whatever happens, it's going to get messy.
Double Bubble...

You can double the fun by adding another challenge at this multi-activity site. Fees apply for additional activities.