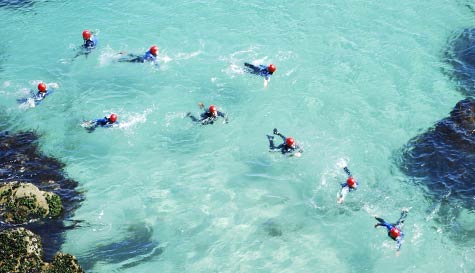 Without doubt, Cardiff stag party Coasteering is one of the most extreme, adrenaline pumping, heart in mouth activities that any stag party could be mad enough to try.

While lesser stags might be happy learning playing bowls or swapping BBQ recipes, the real adventures are pushing boundaries and looking for increasingly higher risks to put themselves through in the name of stag friendship. And the high thrills really don't get much higher than this. Cardiff has the perfect coastline for this totally mad experience; however, it is treacherous and should only be attempted with an expert guide who knows the correct places to leap.

And leap you will. In fact, we're fairly sure at some point at least one stag will be thinking "Why on earth does Steve getting married mean I have to throw myself off a cliff?" as they plummet towards the water with the cliffs just inches away. But the sheer thrill totally outweighs any queries over why. The heights and difficulty of the ascents will increase in what is a physically demanding day. But what goes up must come down, so that means the jumps will increase too. This is definitely one huge tick on every stag's bucket list.

If you think you're tough enough and are ready to take the plunge you can get booking today!