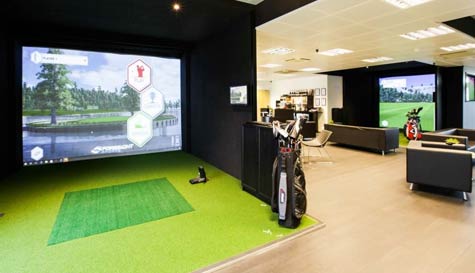 Get into the swing of your weekend with some great sporting action and friendly competition between the guys with our Cardiff stag party golf simulator.
Golf is a fantastic game, one of the most sociable sports but let's be honest, there's a hell of a lot of walking, and for the first 9 holes, every step is taking you further and further away from the bar. That's madness! Nope, what any good game of golf needs is a bar within easy reach at all times. Well, your wish is our command.
This fantastic simulator allows you to play on some of the world's most legendary courses on a giant 4-metre screen all while staying just a putt, skip and a jump from a well-stocked bar. You can also get a bite to eat on-site with great burgers, BBQ wings, pulled pork, gourmet dogs, nachos and sandwedges.
You can set the game up for pairs, singles, match play, the choice is yours, you can also set your own prizes and forfeits for the winners and losers. There's also no need to drag around a heavy golf bag, everything you need is already here. Whether you decide to dress the groom up in traditional golfing attire is entirely up to you but we think he'd look great in a pair of tartan plus fours.
There are over 40 international courses to choose from, so get your game faces on and get ready for some great sporting action.