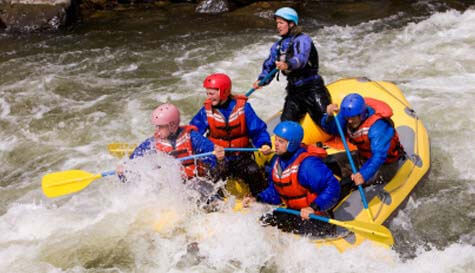 Experience some serious white water thrills with this adrenaline-pumping activity in Cardiff! Descend raging rapids in the heart of Wales' capital city and experience the thrills and spills of this epic activity, taught by experts.

You'll have to work together as a team, which should break the ice between any unfamiliar stags, to make sure the raft doesn't capsize and plunge you into the cold waters below! The Cardiff venue for this activity has manmade rafting features and obstacles including slides, holes and drops to conquer together while surfing the waves and overcoming all the challenges the river throws at you!

The expert guides will instruct you in all the raft handling skills you'll need in order to navigate your way down the manmade river. Expect a fair number of stags overboard and raft wipeouts as this course puts your teamwork credentials to the ultimate test. This is white knuckle, heart-pounding stag action at its absolute peak. It'll take a bit of time getting used to steering and handling these rapid devouring beasts, but once you've mastered them you'll have the time of your lives!

If you're looking for a fantastic time in the heart of Cardiff city then look no further than our manmade rafting!