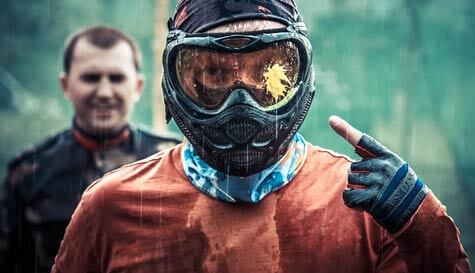 There's a reason the British nobility loved a good stag hunt so much: they're epic! It's the only day out where you get to run around a forest with all your mates, shooting each other with high-velocity paintball bullets and pretending you're soldiers when in reality you're just a bunch of big kids.

Our Cardiff stag party paintball facility offers state-of-the-art paintball guns that make use of the latest compressed air systems, ensuring that all you have to do is hit your target. West Wales also offers some of the best terrain around for paintballing, making this activity a stag party essential.

After arriving and going through the rules of war you'll be kitted out in some of the best stag gear around:
Semi-automatic paintball guns - Pinpoint accuracy makes this the stag's best friend when the paint starts flying.
Padded body armour - Not everyone is cut out for the full force of paint warfare.
100 free paintballs - Get your day off to the best start with a complimentary batch of paintballs that'll make short work of any rival stags.
Protective face masks - Make sure the groom arrives and leaves intact, with only a smile and plenty of bruises to show for the day out.
Worried the groom will get lost in the fray? Cardiff stag party paintball will help you make sure he can't be missed with some tweaks to mission types and a bright costume to run around in ensuring he won't forget the day in a hurry.