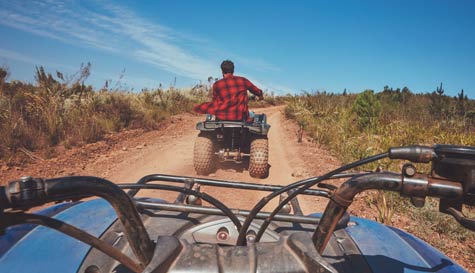 Do you want to be in control of a powerful machine that can take on any type of terrain? Do want to feel the wind in your hair as you hit speeds of up to 50mph in the finest Welsh countryside? And do you want to get muddy? If your answer to all the above questions is yes then our Welsh quad trekking is most certainly the perfect activity for you and the boys. You'll get to push our monster 250cc Honda quads to the absolute limit during this excellent outdoor trek that really will have the boys talking for months! Get out on a 360-acre working hill farm and fly over fields, through woodlands and bumpy tracks in the rural Welsh countryside.

We know that quad biking is always popular because it gives everyone the chance to try out something fun and different that makes a great change from the everyday. Come rain or shine, this activity is perfect, as feeling the sun on your back whilst cruising around the countryside and churning up impressive dust clouds is truly magical, whilst a little rain and chill makes for the very best quality mud! Get everybody's hearts pumping on this brilliant track on the rolling hills of Wales, just 10.5 miles away from Cardiff.
More speed, more laughs!
You can double the fun by adding another challenge at this multi-activity site. Fees apply for additional activities.