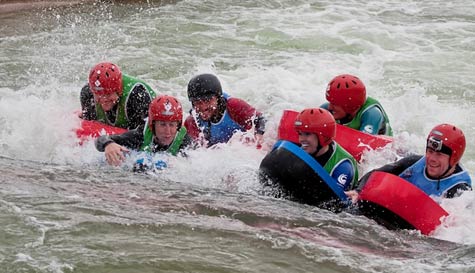 Cardiff has some of the most amazing white water facilities in the whole of the UK, making it the perfect place to try out the new craze of riverboarding! Wet, wild, and definitely not for the faint-hearted, do your best to stay afloat as you battle against rippling and rolling white water.

To sum it up; Imagine laying on a cut-down surfboard and then being launched on to a fast-flowing white water river, as all your mates line up beside you. Now add competitive banter, a typical stag desire to win and a few hangovers and you have a taste of how epic riverboarding really is!

You can race your fellow stags to the end, which essentially makes this a giant, stag-centric version of Poohsticks, except instead of sticks you're using blokes on boards. Daft, slightly hungover blokes at that.

This is a great leveller, as regardless of each stags sporting prowess or ability you can be pretty sure that none of your group will have tried riverboarding before, putting everyone on an even keel. The course you'll be using has been man-made and engineered in order to maximise every single twist and turn for a crazy and thrilling ride.

The onsite experts will give you a few pointers and also set up some great team and individual challenges for you as well as some races.

One of the other great features about riverboarding is unlike motorised racing, apart from the noise of the foam you can hear each other perfectly so you can exchange insults and smack talk all the way down the course. And just for the record, we think you should.