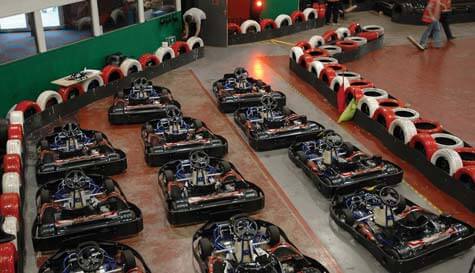 Because go karting is one of the oldest and most popular stag activities in the book, we know that everyone absolutely loves it. The indoor track in Cardiff is one of the very best in Wales and combines challenging, white-knuckle hairpin bends with sweeping, wide corners which will really put your driving skills to the test.

The track itself is 400 metres long and you'll all be taking the wheel in 160cc biz karts which are capable of over 40 mph. Overtake to your heart's content on the wide course and get concrete proof of your lap times with our state of the art digital printing systems.

You have a choice between a Grand Prix and non-stop Le Mans style format for your group. The Grand Prix format starts with 5 minutes of practice laps to get you used to the track. This is then followed by 10 minutes of qualifying laps that determine positions for the final: the slower half will first take on each other, and then the other half will race to determine the champion stag of the karting track!

Le Mans is more of an endurance set up, with at least 30 minutes of track time for each stag.

Triumphant 1st, 2nd and 3rd place drivers get to be real champions, with trophies awarded for their efforts, and with electronic lap time print-outs you know exactly who'll be getting the first round in!