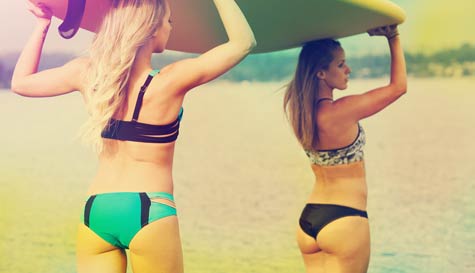 There's no better activity for a laid back stag weekend at the beach than surfing. It's not just an epic day of water sports; it's probably the coolest pastime around! Constantly paired with bronzed beach babes, a chilled-out lifestyle and on the board movements that marry sheer athleticism with nonchalant swagger, surfing is as cool as it gets!

Our Cardiff stag party surfing venue in Porthcawl offers some of the best surf and sand in the world (not just the UK) for your stags to try out this awesome water sport on. Go from total surf novices to riding the tube pros during this 4-hour master class that's likely the closest thing you'll get to exercise on your beer-fuelled stag weekend.

The stags who've never lost their surf virginity will probably entertain the boys with wipeout after wipeout, but with the help of our instructors, they'll soon be on their way to surfing glory! This is the ultimate way to get some quality beach time with the lads, so surf's up, grab your board, paddle out and get pitted, rip curling and hanging ten.

With all the likely stag fails, it's just as well that our instructors will be videoing and taking pictures of your session so you'll likely have something to remember the most hilarious fails by! Better still, this awesome day out will give everyone some serious beach day skills to show off the next time they hit the sand and sea.