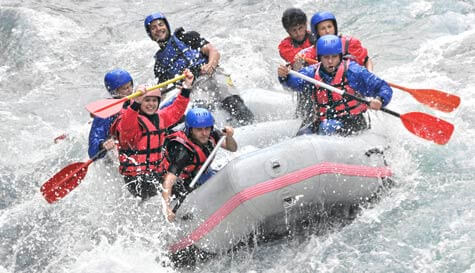 Nothing satiates a stag party's thirst for adventure like staring danger in the face and knocking over its pint. And our adrenaline pumping, buttock clenching Cardiff stag party white water rafting activity will definitely put your hangovers and boxer shorts to the test.
The session starts by meeting your instructors who on the face of it seem like fairly normal blokes, up until you see the size of the rapids they throw themselves over on a daily basis! They get you all kitted up with life jackets, wetsuits and helmets which is a great time to get the guys together for a team photo (the before shot).
You'll then be given a safety briefing and learn the basics on dry land, you'll take to the river like stags to water (?!?) and it's all downhill/river from there. Anyone thinking they're in for a leisurely afternoon paddle should get out of the boat now, this serious water for stags who want thrills and while we might make the odd quip we would genuinely recommend this activity is only suitable for fit and active stags as things will most definitely 'get a bit bumpy'.
You'll then try to navigate the awesome course while keeping all the stags in the boat. Easier said than done. And don't forget to grab a team 'after' photo at the bottom of the course. Wait until you see the difference in the guys' faces!