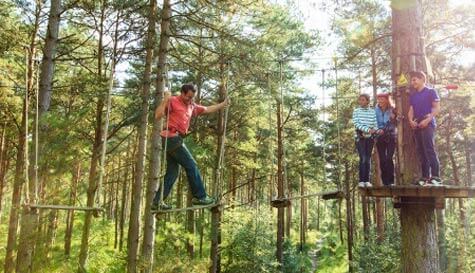 Is it a bird..?
Is it a plane..?
No!
It's a slightly hungover stag swinging through the forest like... well, a slightly hungover stag.

Get set for an epic adventure and quite possibly the world's finest hangover cure. The lads will soon put last night's drinking behind them as they take to the skies to do battle with the daddy of all obstacle courses.

While lesser men might be happy sticking close to the ground and crawling around under little nets, our Cheltenham stag party high ropes course will push you to your limits as you face a series of trickier, high and more physically demanding obstacles.

Taking place in an absolutely stunning area of forest, this is one huge challenge (literally) that will separate the stags from the boys. The course has a wide range of obstacles including; awesome crossings, Tarzan swings, tunnels, rope bridges and a superb face zip wire to get the guys home. Hopefully in one piece.

You can expect plenty of banter between the guys and the joy is that even in bad weather this is still an excellent activity as that just makes the course even tougher. After an initial safety brief from the team and getting hooked up with your safety kit, you'll work at your own pace.

And no matter the fear factor remember a weekend with the guys is just like Alien, "On a stag, no one can hear you scream."