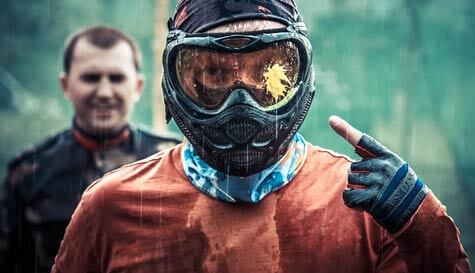 Paintballing is an absolute classic, it combines everything a stag do needs; sporting competition, fast-paced action, ****loads of swearing and a chance to shoot your fellow stags in the gentleman vegetables. It's also the perfect way to build up a thirst ahead of a big night out.

Our Chester stag weekend paintball site is epic and set at a cold war anti-aircraft artillery installation that was originally built to protect Chester, Wrexham, Wirral and Liverpool from attack by nuclear bombers. It provides an almightily and suitably eerie backdrop to a day of hardcore action.

The site offers truly realistic game zones including a post-apocalyptic 'ruins' zone, 'graveyard', Black Hawk Down, and WWI themed trenches as well as a number of great game scenarios. There are also refreshments if you want to grab a quick bite or hot drink.

After a safety briefing and introduction to the world of paintball, you'll be issued with goggles, overalls, state-of-the-art weaponry and the all-important paintballs (or as we like to call them, "groom-seeking-missiles"). You'll then be all set to take to the field and give the groom a well-deserved emulsion overcoat.

The site uses compressed air marker refills which has the added benefit of being eco-friendly: after all, this is warfare with a conscience, regardless of whether at any given opportunity you shoot your fellow stags in the back just because "it's funny."

Of course, if you want to be truly sporting, make the groom dress in a hi-viz gear to turn him into a brightly coloured moving target.