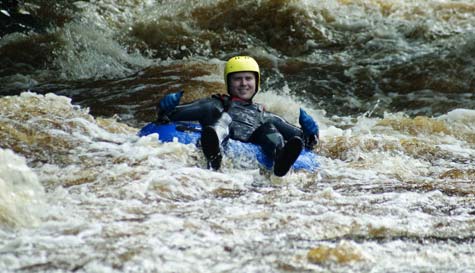 If Captain Jack Sparrow were to pick an inland stag party activity for a bunch of brave and hapless mutineers then this would be it. Fast, furious and hilariously funny. You've seen (and probably experienced) water tubing in theme parks where you get to drift harmlessly down a smoothly polished and risk-free slide while sitting on a giant rubber ring? Well, this is it's messed up, adrenaline-soaked, angry older brother.

In this site on the River Dee you will cover 3km of serious grade 4 white water in an area of exceptional natural beauty with experienced instructors to guide you the whole of the way. You and the lads will need to work together to navigate through and survive rapids such as Serpents Tail, Boulder Blast and Motor Rapid.

In between the hard water, twists and turns you and the other guys will get to drift along beautiful scenery as you get your breath back. It's a great chance to laugh at each other's misfortune or plan tactics of how to navigate the next set of rapids. However whatever you plan will probably go out the window as the water itself will be calling the shots as you're merely along for the most incredible ride as you take on nature in a battle of wits, teamwork and courage.