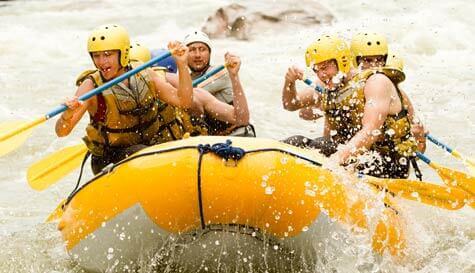 On your big weekend in Chester, there are loads of awesome activities for you to get stuck into, whether you're embarking on an underground trampoline adventure or you're monkeying about on a death-defying high ropes course. But for boys looking for some serious white knuckle action, you might want to look to the water for inspiration...

White water rafting is a classic stag activity, and for a very good reason. This is an extreme; adrenaline pumping activity that's proven the highlight of many a stag weekend, and yours could be next. There's nothing as exhilarating as flying down a fast running watercourse at speed with nothing but your raft and your best mates to hold onto!

This is an activity that should really come with 'balls of steel' as a requirement for entry, but if you reckon you're hard enough, there's some fantastic action to be had here. With expert instructors on hand at all times, you'll never be left up a certain creek without a paddle, and the big thrills will come thick and fast during your time on the water.

Our Chester white water rafting experience is top drawer, old school stag mayhem that's perfect for your big weekend. Team up with the lads, ride the wild waters and beat the rapids with your 'oarsome' skills. And although this ride can get pretty rough, our Chester course has a variety of routes so that everybody can walk away from this activity feeling epic.