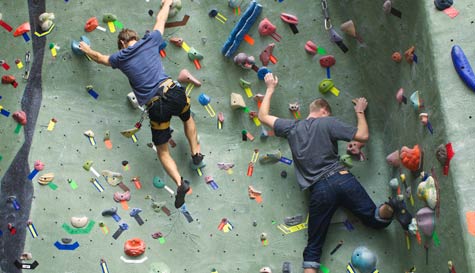 At StagWeb we don't do mediocre, so when we send you climbing, for those that are mad enough we really can create the ultimate stag party climbing adventure (within the bounds of safety of course, you might not quite be ready for K2 just yet).

Our stag party rock climbing activities are a whole lot more than simply hauling yourself up a plastic wall with strange multi-coloured shapes - climbing venues and locations vary wildly and really make the most of the most stunning scenery the UK and Europe has to offer. Although indoor climbing walls are available, more testing ascents lie in wait for more daring/crazy stags and we can guarantee that they'll really push everybody to their limits.

Climbing walls are now a part of the past and the way forward for an epic stag do as you climb sheer rock faces and proving your strength and ability out in the raw wild! Scale flat cliff faces and use your hands and feet (or indeed any other part of your body that will suit) to get to the top in record time and find out who's stag climbing champion. You've seen the start of Mission Impossible 2 where our hero Tom Cruise is free climbing, swinging and hanging on by his fingernails, please don't do that. We have expert instructors to make sure you learn to climb like a pro and get the most out of your experience without the rest of the stags belaying you back down the rock face because you got stuck (the years of grief the lads will give doesn't bear thinking about!).

As stag weekend bonding experiences go, this really is the rock and roll of manly adventures. Not only will you build up a great thirst for the evening and create some superb memories for the groom's big weekend, but the photos you'll be able to post on your Facebook wall from your stag party rock climbing adventure will be superb!