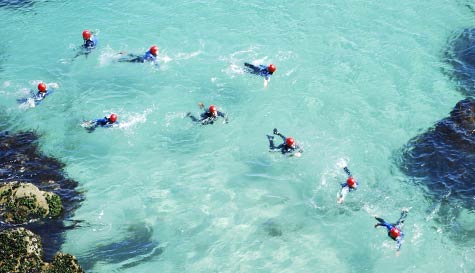 Adrenaline junkies and thrill-seekers will get a serious buzz from this adventure-filled stag party coasteering activity as you and the boys take to the cliffs for a heart-racing afternoon of stag madness. This is a stag-sized test of nerve, daring, physical fitness and sheer guts which really will separate the men from the boys.
Do You Have What It Takes?
On the day, you'll suit up in your wetsuits and safety gear and have a speedy briefing, before you head to the cliffs where you'll take your leap of faith. You'll have to rely on your own strength and physical abilities as you swim in the open sea, climb over rocks, scale sheer cliff faces, and then jump off the cliffs of the next headland as you navigate across a stretch of coastline.
It's like Rambo meets Bear Grylls meets James Bond!
This is perfect for stags who want to embark on an experience of a lifetime which you'll be talking about for years to come. It's one of the most exhilarating and extreme activities you can do on a UK stag do as well as the most physically taxing - yep, there's no sitting back letting an engine do all the work, this is stag vs nature. Do you have what it takes to conquer this epic session?
Take The Plunge!
Yes, gents, you'll certainly feel like you've earned your beers that night as you head off to party in style. With coasteering, teamwork is key which makes it perfect for a group of stags celebrating the grooms own impending lemming-like leap from the safe cliffs of singledom on to the rocks of marriage below (yes, that was almost quite poetic - wipes tear from eye).
So, gather the boys, tell them to get their game faces on, pack their mankinis and head for the coast!
WARNING - Coasteering genuinely isn't for the fainthearted so please book with caution as this activity requires both a decent amount of physical strength and fearless attitude.