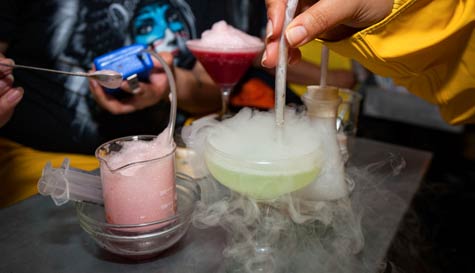 Take one of the most popular TV shows of all time, add an RV lab with the name 'Heisenberg' ominously sprayed on the wall, an arsenal of alcoholic ingredients and a healthy dose of dry ice, mix them all together and you've got our brilliantly boozy Breaking Bad inspired Cocktail Lab activity.
On arrival, you'll pull on a hazmat suit and goggles, just like Walter White and Jesse Pinkman wore when working for the sinister Gus Fring. Then, under the guidance of expert mixologists, you'll learn how to create three 'molecular' man-cocktails. Yep, this isn't your average cocktail mixing session.
The immersive experience is packed with so many in-jokes and references to the legendary TV show, spotting them all can be a stag party challenge in itself and a serious test of your Breaking Bad knowledge. The brilliant people behind the lab really have taken a 'no half measures' approach, making this the perfect activity for any superfan groom.
The molecular cocktails include:
Choco Sky - Rum & bourbon, pineapple, agave syrup, dry ice and white chocolate.
The Lab - Vodka, Maraschino, Lemon Vodka infused with lemongrass, cardamoms, thyme, rosemary, dry ice.
Dry Walter - Vodka, Cointreau, Sweet Vermouth, grapefruit and ginger-infused by Nitrogen cavitation.
Wendy Martini - Vodka, Passoa, Passion fruit, prosecco and dry ice.
Once you've perfected your chemically sound cocktails, you'll need to destroy the evidence before Hank and the DEA catch on to your whereabouts. The fastest way to do that? By drinking it of course.
Upgrade available: Ask our team about upgrading your session to include 4 hours of molecular mixology where you'll get to taste 6 drinks each.