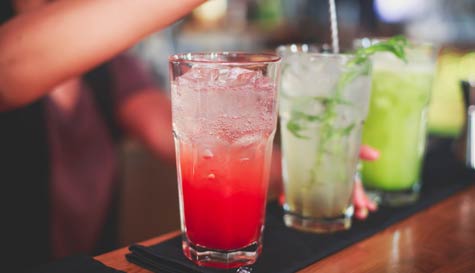 This is 'man-drinking' stag-style and things are about to get messy!
Hunter S Thompson, Frank Sinatra, James Bond, Ernest Hemingway, Winston Churchill... cocktails may have a reputation as a girly drink but through history some of the manliest men of them all have been big cocktail drinkers.

While it's true, get caught with the wrong cocktail and your man card will instantly be revoked ("Can I have a Pink Lady please?" "Get out my pub!"), when you're creating your own BBQ cocktails from scratch, there really is nothing better than offering your guest a "Flaming Death Bomb", "Widow Maker" or "Bridesmaids Revenge" or whatever other weird name you might give to a cocktail of your own creation. This superb stag party cocktail mixing session will let you take the helm of your own cocktail bar and mix mercilessly to create cunning and evil cocktails.

You'll be working under the guidance of a professional mixologist who'll show you some simple but really impressive tricks of the trade for your next BBQ or party and teach you how to make some classic cocktails such as;
Mojito
Porn Star Martini
Long Island Iced Tea
Bramble
Margarita
Cosmopolitan
Soho Sling
It's then a challenge to see which of the stags can create the best cocktails. And of course it goes without saying that you'll need to keep taste-testing as you work.

Forget the girly cocktails and become a master mixer. This is man-drinking done stag style so you can be pretty sure things are about to get messy!